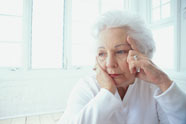 In the senior care field, it is our job to be like a second family to our clients. Many of you reading this are probably thinking of at least one particular situation where you, yourself, needed to assist an elder in battling their depression. As we know, depression is not just a sadness, but a debilitating emotional weight on one's shoulders. Depression is not, according to a source, "A normal part of aging." However, it is believed that nearly 20% of the older population goes through some level of intense and overwhelming feelings of unhappiness.
Ehow.com says, "Even more troubling, only half of seniors with mental health problems gets treatment of any kind, and less than 3% get treated by a mental health specialist."
Causes…
So, we know that there is this major taboo that isn't often discussed simply because it is a very sensitive subject.
Health.com tells us, "Older adults are fairly resilient considering the stress many of them are under," according to Joel E. Streim, MD, a geriatric psychiatry specialist at the University of Pennsylvania. "Many older adults are losing companions and spouses, coping with physical disability and dependence, or moving to senior housing. And we know that relocation is one of the most stressful events in anyone's life. So when depression does occur, it is an illness that must be treated."
Look for the signs…
Although depression can never be completely avoided, there are ways, as surely many of you reading this already know, to prevent this taboo from taking over an individual. So, what are some warning signs? "Because elderly people don't always share their thoughts and feelings, friends and family should look for signs indicating possible depression. A few symptoms of depression in the elderly include changes in weight and eating habits, fatigue, daytime sleepiness, statements of unworthiness, irritable moods and complaining more about aches and pains."
Isolation is one of the major causes for these feelings. Specialty Care Services, a provider of senior home care services in Washington, DC and surrounding areas, is proud that our staff and caregivers can touch the lives of so many. Many of these individuals would otherwise be alone in their homes. Sometimes, family is out of state or can only visit on weekends. This is not uncommon. However, the passion and dedication one sees with our staff is a rare quality that we take pride in. It's a known fact; as human beings we benefit from social interaction. "Because older people experience ongoing loss and significant life changes, it's important they discuss their feelings." Simply having a friend to confide in and share with can go a long way.
Hopefully, from reading this E-Newsletter, you will feel inspired. As many of our readers are in the senior care industry, they face this issue on a daily basis and make it part of their job to share a smile or a conversation with a client, a resident, really a friend, every chance they get. The next opportunity you are graced with, show an elder you care. One can only imagine how much it could affect a passing stranger at the grocery store or even a resident in your assisted living facility you see on a daily basis.
If you or a loved one is in need of expert senior home care services in Washington, DC or the surrounding area, feel free to contact Specialty Care Services today! Our team is always happy to help.
Have a wonderful rest of your week and share a smile!